Upcoming Earnings & Weekly Watchlist 11/08/21-11/12/21
Yes, I'm Back
I'm officially back after a long 7 month hiatus. Thank you to everyone who has been supportive of my decision to focus on my health. I have spent the last 11 months exercising and eating healthier so that I can build a stronger body both physically and mentally, and I am 70% to my goal. I'm much happier and wiser than I was 7 months ago, and I owe it to my friends on Twitter, friends and family back home, and all the Bruce Lee and Ip Man movies I've been binge watching to draw inspiration from. Now let's get back to business.
Did You Blow Up Your Account?
We have 39 trading days left in the year, and I'm confident we can end this year strong for those of you who blew your accounts up. Let's focus on starting fresh on Monday. There's no point in tying up your hard earned cash on positions that will not serve you. Cut the bloody bags if they're weighing you down, and let's focus on a greener tomorrow.
Let's begin scaling into new swing positions, focus on risk management, making sure you have a lifeline to save you, cut losses quickly, and move it along so you can rebuild those accounts. Below are MANY opportunities for you to start fresh. Whether you choose to play the news (day trades), swing into earnings or set up your bottom plays, remember to TAKE PROFITS on the way up. Reload at big pullbacks if you would like to continue swinging, and make sure to respect your trading rules. DO NOT CHASE HUGE SPIKES if you are NOT a strong day trader.
End this year with a different mindset and do not allow your failures to define you.
It is absolutely okay to fail, failure builds character, and it teaches you life lessons. No matter what happens, just never give up. Be persistent and consistent. Let's end 2021 super green!
To Day Trade or Swing?
When it comes to any type of news play, I recommend being cautious and keeping these as day trades if they spike up quickly. Always look at the risk:reward ratio and only swing if it moves in your favor. The best swings are bottom plays with abnormal volume and upcoming catalysts. Make sure to do your due diligence and respect your rules at all times. Always have an exit plan before you enter any trade.
---
My Largest Long Swing Positions
OCGN
METX
FAMI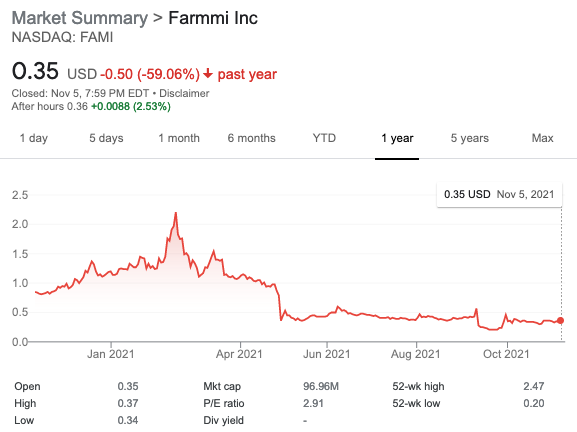 BBIG
---
Infrastructure Bill News
Lucid Group Inc (LCID)
Tesla Inc (TSLA)
Nio Inc (NIO)
Ford Motor Company (F)
Fisker Inc (FSR)
Ideanomics Inc (IDEX)
Lightning Emotors Inc (ZEV)
Nuvve Holding Corp (NVVE)
ChargePoint Holdings Inc (CHPT)
Camber Energy Inc (CEI)
FuelCell Energy Inc (FCEL)
Solar Integrated Roofing Corp (SIRC)
Evolve Transition Infrastructure LP (SNMP)
Westwater Resources Inc (WWR)
CBAK Energy Technology Inc (CBAT)
ENGlobal Corp (ENG)
Ocean Power Technologies Inc (OPTT)
Sunworks Inc (SUNW)
Spi Energy Co Ltd (SPI)
Polar Power Inc (POLA)
Piedmont Lithium Ord Shs (PLL)
Pioneer Power Solutions, Inc. (PPSI)
Gevo Inc (GEVO)
Orbital Energy Goup Inc (OEG)
---
Cannabis
Sundial Growers Inc (SNDL)
Aurora Cannabis Inc (ACB)
Hexo Corp (HEXO)
Tilray Inc (TLRY)
Akerba Corp (KERN)
Can Fite Biopharma (CANF)
Corbus Pharmaceutical Holdings Inc (CRBP)
Bitcoin/Crypto/Blockchain
NXT-ID Inc (NXTD)
Sos Ltd – ADR (SOS)
Marathon Digital Holdings Inc (MARA)
Riot Blockchain Inc (RIOT)
Ebang International Holdings Inc (EBON)
Argo Blockchain PLC (ARBK)
ZW Data Action Technologies Inc (CNET)
DSS Inc (DSS)
Greenidge Generation Holdings Inc (GREE)
Nextplay Technologies Inc (NXTP)
Wisekey International Holding AG-ADR (WKEY)
---
Upcoming Earnings
Monday 11/08/21
AMC Entertainment Holdings, Inc (AMC)
Clover Health Investments, Corp (CLOV)
Coty Inc. (COTY)
Galectin Therapeutics (GALT)
Akerna Corp. (KERN)
Carlotz Inc (LOTZ)
Mogo Inc (MOGO)
PayPal Holdings Inc (PYPL)
Cassava Sciences, Inc. (SAVA)
Virgin Galactic Holdings, Inc. (SPCE)
Staffing 360 Solutions, Inc. (STAF)
Tonix Pharmaceuticals Holding Corp. (TNXP)
TripAdvisor, Inc. (TRIP)
Trevana, Inc. (TRVN)
Zynga Inc, (ZNGA)
Tuesday 11/09/21
Aurora Cannabis Inc (ACB)
Coca-Cola Consolidated, Inc. (COKE)
DoorDash Inc (DASH)
Fubotv Inc (FUBO)
Grocery Outlet Holding Corp. (GO)
Hilton Grand Vacations Inc. (HGV)
Inovio Pharmaceuticals (INO)
McAfee Corp. (MCFE)
NIO Inc (NIO)
InspireMD Inc. (NSPR)
Ocugen Inc (OCGN)
Wednesday 11/10/21
Biocept, Inc. (BIOC)
Biolase Inc. (BIOL)
Bumble Inc. (BMBL)
Gevo Inc. (GEVO)
IZEA Worldwide, Inc. (IZEA)
Li Auto Inc. (LI)
Marathon Digital Holdings, Inc. (MARA)
Onconova Therapeutics (ONTX)
Progenity, Inc. (PROG)
RISE Education Cayman Ltd. (REDU)
Regulus Therapeutics Inc (RGLS)
SoFi Technologies (SOFI)
ContextLogic Inc. (WISH)
ZipRecruiter, Inc. (ZIP)
Thursday 11/11/21
Aikido Pharama Inc (AIKI)
Atossa Pharmaceuticals, Inc. (ATOS)
AYRO, Inc. (AYRO)
Blink Charging Co. (BLNK)
GeoVax Labs Inc (GOVX)
Luminar Technologies, Inc. (LAZR)
ReWalk Robotics Ltd. (RWLK)
Sundial Growers Inc. (SNDL)
Friday 11/12/21
Sotherly Hotels Inc. (SOHO)
Oragenics Inc. (OGEN)
SilverCrest Metals Inc. (SILV)
Xenetic Biosciences, Inc (XBIO)
---
Many have asked how to support me directly, you can open up a Webull Account with my referral link that's on the sidebar & homepage or you can donate to my blog below via PayPal. Every bit helps to keep my blogging dream alive. I truly appreciate you taking the time to read.
-Cheers
Disclaimer : This should not be considered investment advice, and should not be used to make investment decisions. Do not buy or sell any stock without conducting your own due diligence. Information on eyelovegains.com is opinionated and should be considered for information purposes only. No stock exchange anywhere has approved or disapproved the information contained herein. There is no express or implied solicitation to buy or sell securities. The charts and data provided here are not meant for investment purposes and only serve as examples. We are not liable for any losses you may endure from the buying and selling of stocks or securities within your accounts.