Back From My Hiatus
Helllooooo everyone! I am back after a long month. First and foremost, I apologize for being MIA. A lot has happened and I needed to take a big step back for my sanity. With the market taking a huge hit since February, it's been quite brutal for all of us. My reason for taking a break was due to a number of reasons.
Mom Warned & I Didn't Listen
First, my mom warned me to pull my investments prior to the Lunar New Year, and what did I do? I didn't listen. I figured I got the hang of it all, and was confident this was merely a small correction. If you don't know, my mom is never ever wrong. She's literally called every stock market crash, and every big pullback based on the Chinese Calendar. I'm still skeptical because I'm stubborn and think I can outsmart the market. Apparently, I was humbled real quick. She's being really good at not saying "I told you so," especially because she sees how down I've been.
I Broke My Rules
Second, after watching more than half my portfolio across all my accounts plummet, I started to become quite frustrated. I started trying to make up for my "losses," and unfortunately two horribly bad trades wiped me out hard. I was extremely upset at myself for not locking in my profits and it costed me. I traded two OTC tickers, and if you know how that goes, you can lose it all in a few minutes if you go too big in a trade when it's running hard. I wasn't focused, and had to pull away from the screen for 30 min, and unfortunately the positions I was heaviest in plummeted and I didn't catch it fast enough since I don't set stop losses when trading OTC plays.
Third, I lost far more than I thought I did, because I normally preset my buy limits, and I forgot to cancel it, so I ended up buying MORE shares when it plummeted, and ended up doubling my losses on top of it all. Sounds like a nightmare, doesn't it? Yes, it was.. Not only was I down because of the market correction, but down because of shorts/MMs, and now down even more because of bad trades, and becoming distracted.
Dealing with Twitter Trolls
Fourth, with everything going on in my business, personal and public life, I've been feeling like I'm falling short and disappointing everyone, especially myself. To top it all off, Twitter Trolls were being disrespectful, treating me like those young girls who just learned about stocks yesterday and calling themselves an expert, while poorly advising new traders and investors all to build their influencer presence. I'm a very sensitive person and I've worked extremely hard from the very bottom, growing up poor to get to where I'm at. I've endured so much abuse within my personal and professional life to get me to where I'm at. To be lumped in with those types of girls is a big slap in the face. I don't do anything for attention, I give my absolute heart and soul into all that I do. I'm an investor first and foremost, trader second. Nothing I do is for attention, but only to help others like me know that your dreams matter, and if you're willing to put in the time and work, you'll be able to realize your dreams just as I have. Nothing came easy. I put my blood, sweat, and tears into everything I have, and my health suffered because of it.
All Up in My Emotions
Fifth, I shut down when others put me down. I wish I didn't care, but I wouldn't be in the health field if I didn't care and was insensitive. It's part of my nature, and when others hurt financially or are sad, it makes me sad too. Dealing with my emotions was one thing, but seeing others hurt too, put me over the edge because I didn't know how to ease the pain. I know it will be okay in the long run, but I also know how upsetting it is to watch your account plummet 80-90%, and feel completely lost, so you end up panic selling. I can say, it'll be okay if you're long, but most new traders want the instant gratification of seeing a recovery right away. That's simply not the reality if you're investing or trading stocks. I know better than to trade when I'm in an emotional state, so I took a bigger step back.
Having to Wear Many Hats for Others
Sixth, everyone thinks I'm super rich, and I'm not. Everything I make goes to paying so many different bills. The pandemic wiped out my savings for my business, so the money I have in stocks goes into keeping my business above water, barely. I'm the head of the household caring for my mom and brother, and they're not cheap to take care of. I'm the one friends and family turn to when they need money to pay for bills, so in the end, there's really nothing left for me.
With a California mortgage, business lease, operation expenses, medical bills, multiple car loans, student loans, and every bill imaginable, plus personal taxes and business taxes.. it leaves little for me in the end. After my accounts took a huge hit, that wiped out most of my money as well. Whatever I pull out every month goes straight to bills and everyone else. So, to say I feel like others use me, trying to milk me out of every penny I have is me being nice.
I never hope for anyone else to experience the weight of the world as I have over the span of my life. Having to be a caretaker, a financial provider, an entrepreneur, while being judged for not having babies, the expectation to be fit and beautiful with perfect complexion all at my age is a tough pill to swallow for any woman. I can't tell you how often family, friends, and patients ask when I'm having kids. The emotional toll that question bears on me is indescribable. I want to be a mother one day, but right now, it's not possible.
Focusing on my Health
Seventh, many of you who follow me on SnapChat know I post daily and pretty often. I hope to share my fitness and health journey with those of you who struggle with your health like I have. Throughout my life, I've done what others wanted. I've allowed the opinions of so many dictate what's right for me, and I never once put my needs or wants at the forefront. I've been feeling lethargic, exhausted, and hating the person staring back at me everytime I look in the mirror. My confidence has been depleted, and I've been feeling more and more alone as the days go by. I knew I needed to make big drastic changes so that I can find happiness within myself again.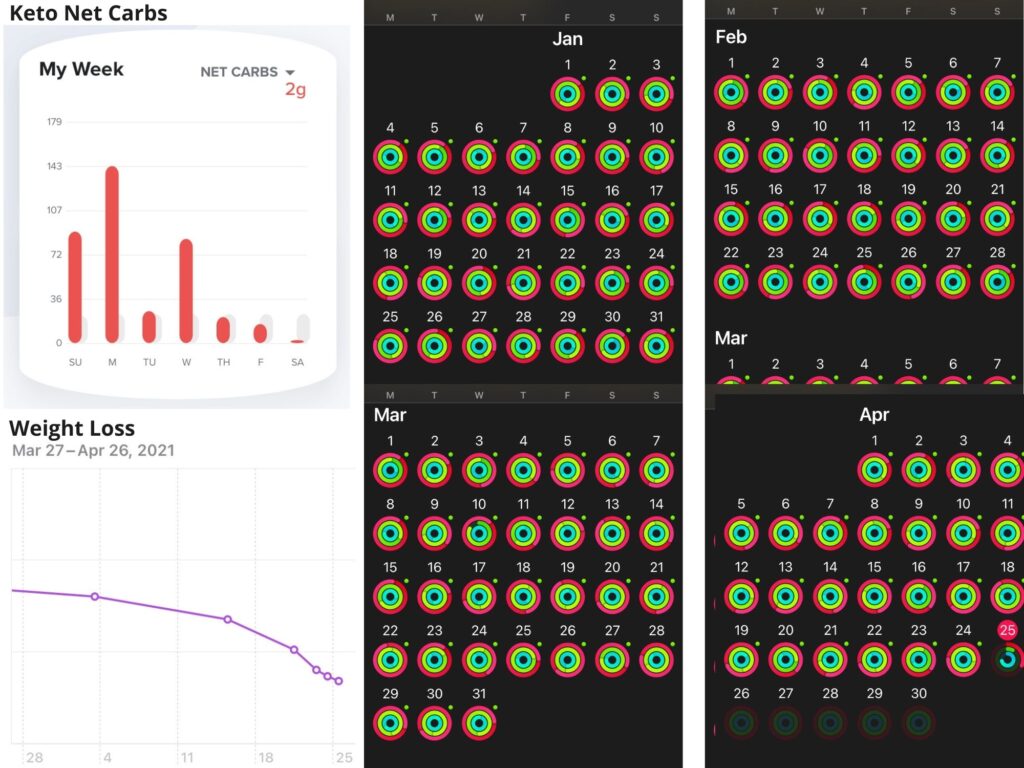 Keto and 18:6 Intermittent Fasting
I've embarked on a lifestyle change of Keto and 18:6 Intermittent Fasting. I am on Day 7 and it's been getting much easier. I went from consuming at least 80-140g+ carbs down to below 23g carbs. I have switched my recipes from the boring American recipes to primarily Indian and Asian recipes since there are many delicious meals that are naturally keto-friendly, so I don't feel deprived. I use a TON of spices in my cooking so it makes it much more manageable. Good tasting food full of flavor ensures that I will not fall off the wagon. The first 3 days, I felt like I was being deprived of all my favorite flavors, and after doing a ton of research, I adapted and learned about other cuisines. Now I'm struggling to hit my macros because I get too full, and unable to eat anymore.
Exercise Routine
I work out daily for at least 60-90 minutes switching between strength training, squats, boxing, circuit training, push ups, planks, lunges, burpees, walking, jogging, running, and battle rope exercises. I do not take days off because it makes it harder for me to get back in the groove of things when I do, so I just stay committed and consistent. If you want to follow my health & fitness journey, I post daily on SnapChat.
Once I'm back to being happy, everything else in my life begins to fall into place. When I'm happiest, it allows me to give you all the very best of me. To those who stuck it out with me through all my lows, know that I appreciate you.
Back to Stocks & Why I Didn't Say to Buy the Dip
Finally, I needed to go quiet because I did not want anyone to buy the dip anymore after that second week. It was clear that it would be irresponsible on my end if I became like the furus who kept telling people to buy every single day when it's clear that the stocks are moving on a downward trend.
I'm back now because I feel we've hit the bottom, or pretty close to the bottom. If you're down in your stocks, I promise you I am too. This is the time I'm choosing to average down from my positions that are down 40%+, and going long. Once I break even, I'll reposition again at the bottom dip, and begin accumulating once more. If you ended up cutting your losses, that's fine too. You have to do what's right for you.
Is It Time to Buy Now?
Right now is the time to buy up stocks reporting earnings. I would trade based on the trend, and there are many great companies reporting this week. You can view my earnings watchlist here. As always, I wouldn't go all in on any position. I would scale in and out, and respect your stop loss if you're day trading or swing trading. If you're long, I would accumulate all the big drops and make sure to diversify your portfolios as more businesses are reopening fully.
I expect better earnings in June for most of the companies that have been affected by the closure over the past year, and the stay at home stocks to have underwhelming results (i.e. NFLX). For that trade, I bought the big sell off after hours and swung overnight, closing my position at the high of day. I'll be buying travel/hospitality/restaurant stocks that have taken a huge hit over the last year and OTC stocks that have been manipulated down to rock bottom. Many of these OTC companies have been working hard at being compliant and making big moves throughout this pandemic, so I'll be keeping a close eye on OTCs that are attracting investor attention.
Hopefully, you made it all the way to the bottom. Sorry for the long blog, but I wanted to give you a heartfelt post I felt many of you deserve. I'll be blogging weekly as oppose to daily like before to ensure I have more of a work-life balance. Happy trading everyone! See y'all on SnapChat, Twitter, and Instagram =)
---
Many have asked how to support me directly, you can open up a Webull Account with my referral link that's on the sidebar & homepage or you can donate to my blog below via PayPal. Every bit helps to keep my blogging dream alive. I truly appreciate you taking the time to read.
-Cheers
Disclaimer : This should not be considered investment advice, and should not be used to make investment decisions. Do not buy or sell any stock without conducting your own due diligence. Information on eyelovegains.com is opinionated and should be considered for information purposes only. No stock exchange anywhere has approved or disapproved the information contained herein. There is no express or implied solicitation to buy or sell securities. The charts and data provided here are not meant for investment purposes and only serve as examples. We are not liable for any losses you may endure from the buying and selling of stocks or securities within your accounts.