End of Day Wrap Up 03/18/2021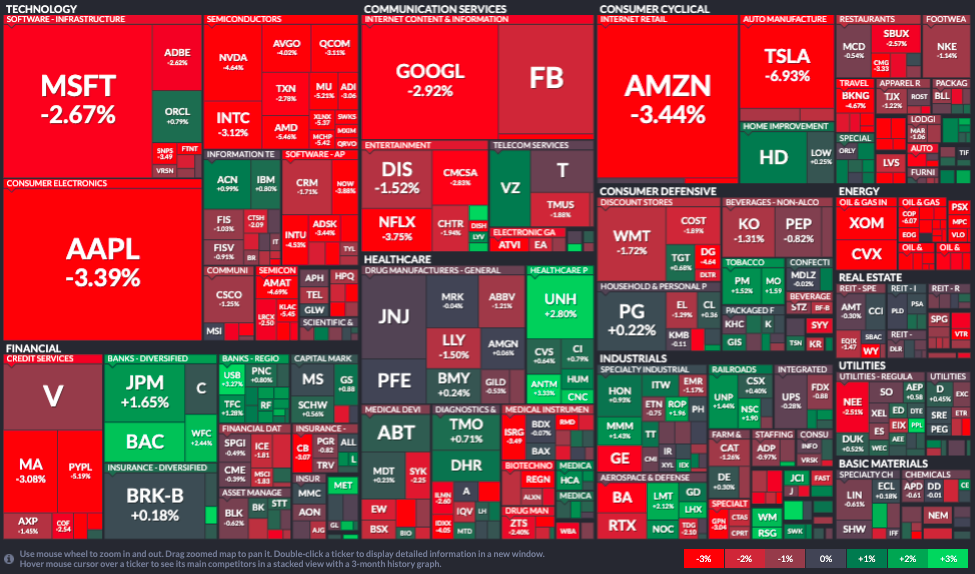 Happy Thursday everyone. Hope you all had a good day overall. Today started out so so, and then slowly climbed upward into green territory, only to flip red towards the last few hours due to tensions surrounding the U.S. and China, and U.S. shares falling from a record as the Federal Reserve's tolerant stance on inflation caused investors to lose confidence.
Traders who blame GameStop and AMC stocks for causing this downward trend need to seriously get off their high horse and stop blaming two stocks for a normal pullback in the market, especially since GME closed red on the day along with many other stocks.
GameStop Corp (GME)
GME closed -3.84% at $201.75, hitting a high of day of $218.88. Its low of day was $195.65, closing at $201.60 after hours. Today's volume was extremely low with 11.80M.
Tomorrow is a big day and many are anticipating the squeeze will take place tomorrow. It may or may not happen, so I'll be monitoring the price action extremely closely since we are closing the intraday gap nicely while running on extremely low volume, which is crucial if we want the big squeeze to take place. We weren't able to trigger SSR today at $188.82, however, we may not need to if everyone continues to hold when shorts try to cover.
Cost Distribution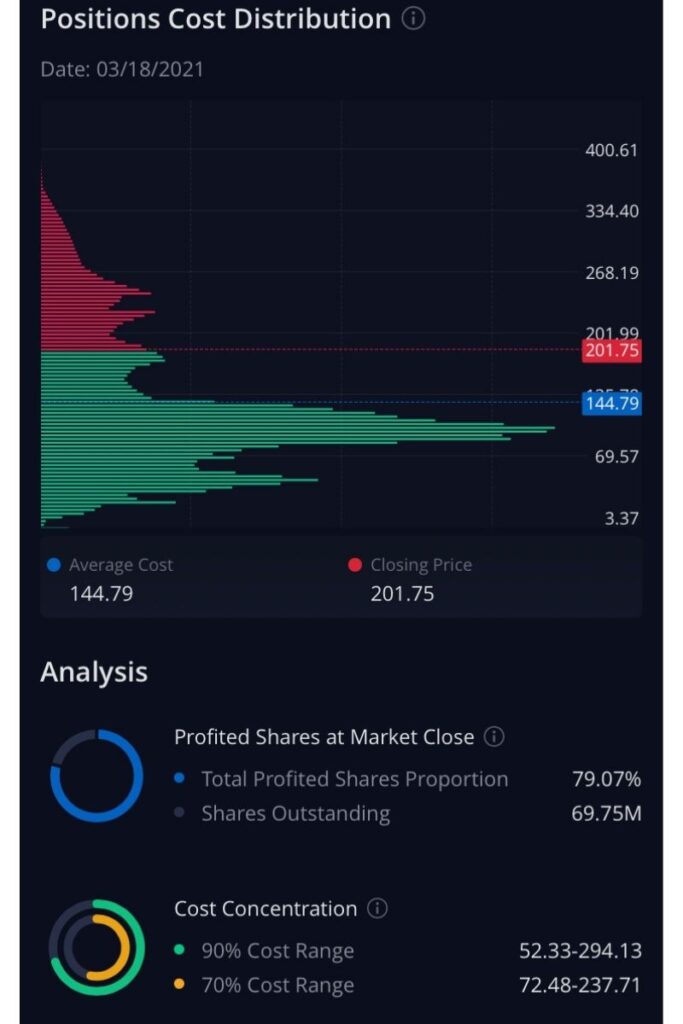 If you look at the cost distribution, the total profited shares proportion is equal to 79.07%, leaving only 20.93% of shareholders in the red. Typically, most shareholders are in the red, which makes it harder to move upward. Once those in the red sell at a loss, or choose to average down while on low volume, I tend to see breakouts occur.
Buy Targets for 03/19/2021
Based on today's closing price of $201.75, I'll be setting my buy limits at $180-182 and $160-162 to catch the big drops if there are any. As shorts attempt to push GME down and cover, if we buy up the big dips, this will make for a big squeeze. I'll be monitoring the Level 2s and this will be my main focus for tomorrow.
(Repost from previous day's blog)
I've been monitoring the price action extremely closely over the last 2 1/2 months, and I know something fishy is going on behind the scene. The pattern has become quite predictable. The goal over the next 3 trading days will be to trigger SSR every day.

This may mean we will be allowing drops of -10% to -20% to trigger SSR every single day, but the goal is to buy the big dips and close higher each day, until 03/19-03/23. This is the setup we will need to execute to the T for us to get a great run.

GameStop will be announcing their Q4 2020 earnings on 03/23/2021 after the market closes. I'll continue to sound like a broken record with GME, but there's a good reason why GME is being suppressed, and it makes me want to hold it more based on the fact that they need to short it constantly to keep the price down. This is absolute insanity, because the psychology behind the charts patterns are reflective of two stubborn groups: Hedge Funds vs Retail Traders/Investors. I've been continuously taking my profits from my other trades, and buying more shares of GME every single day. I'm bullish, even if others don't see it. The fact that dips get bought up as quickly as they do shows the power behind this stock. Others may just see a chart, but I know there's much more to it, so I will stick with my gut on this one. As long as we're holding above $200, and the monthly charts show higher lows forming over time, I'm holding. I don't care if it looks messy, as long as we reach our destination. I'll be happy with +1-3% gains daily over huge rips that don't hold any day.
What I'll be watching Friday, 03/19/2021
I expect a choppy day tomorrow because of all the tensions surrounding the U.S. and China, and with many people already blowing through their $1400 stimulus money. This is why I say it's important to trade small until there's clear confirmation that we're back in a bull market. I monitor Tesla (TSLA) very closely because when their stock performs well, all the EV and Energy plays run with it. We may see more red tomorrow because it's a Friday and people tend to sell off right before heading into the weekend. This is always a great time to pick up cheap shares.
Missing in Action from Twitter
I haven't been feeling well due to a lack of sleep, not having days off, my new exercise routine, and taking care of my mom and brother. My body is essentially shutting down and triggering migraines that I normally don't get. Over the last two days it's felt like my nerves are dying, and I can barely get the strength to move around without being in pain. My mom is also not feeling well, so I have weeks of doctor appointments for her, and I'm barely able to keep my eyes open to drive her to all her appointments. I will try my best to keep up with everything, however, I am officially in the "burned out" territory, and can feel my body giving up and forcing me to stay in bed to get my rest. If I don't respond to replies on Twitter, or emails, hopefully you can all understand why. Sending you all positive vibes.
---
How to Utilize My Positions List Below
Many ask how to utilize my top 5 green/red position lists below. Oftentimes, I will exit my green swing positions if it looks like there will be no continuation. My decision varies depending on what my cost price is. It's all about managing risks, and if it looks like I'll be in a position where, I'll be down, I won't hold, and will choose to reposition myself by accumulating dips on red days over a period of time until it's ready for the next run.
To Buy On Green Days or Not
I will add to my green positions on green days only if it's moving in the direction I like and forming higher lows, and showing a bullish chart. I make sure to scale when adding, especially on green days, because it can go south quickly.
To Buy on Red Days or Not
I will almost always accumulate my red positions because they usually move back up, unless it's a clear pump and dump, which I will never swing because it's too risky. If there are sharp spikes and a quick drop down, then it's a clear pump and dump. If the chart slowly drops in price throughout the day, then that's usually people taking profits. To make the call on re-entering or accumulating, I look at the 5D, 10D, 30D, 90D, 180D charts and I monitor the volume. I love adding when there's little to no volume when setting up long swings.
---
Top 5 Green Positions (03/18/21):
CSCW
CANF
ATIF
AMC
OXBR
Top 5 Red Positions (03/18/21):
RBLX
GAXY
OCGN
HCMC
GME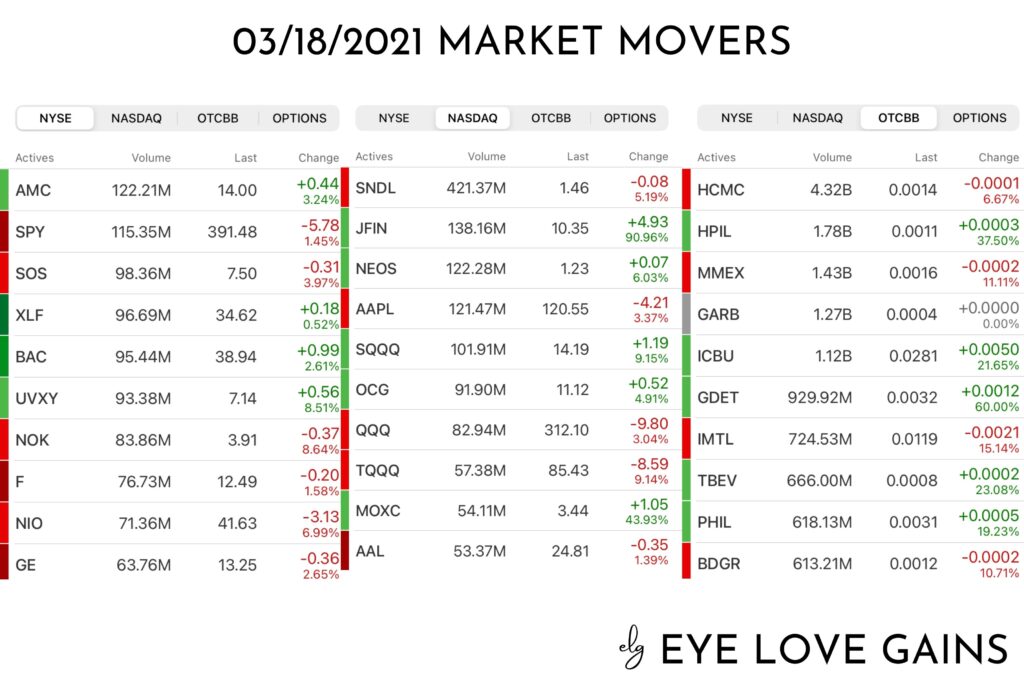 I monitor Market Movers every single day to scan for new setups. I mainly look for positions with unusual volume that are at the bottom, ready for a reversal back up, or if they remain green, I look for a bullish chart for a continuation.
---
As always, if you made some massive gains, be sure to support your local and small businesses. Be the change you wish to see in the world. Believe it or not, we can make a difference in keeping these businesses open!
Many have asked how to support me directly, you can open up a Webull Account with my referral link that's on the sidebar & homepage or you can donate to my blog below via PayPal. Every bit helps to keep my blogging dream alive. I truly appreciate you taking the time to read.
-Cheers
Disclaimer : This should not be considered investment advice, and should not be used to make investment decisions. Do not buy or sell any stock without conducting your own due diligence. Information on eyelovegains.com is opinionated and should be considered for information purposes only. No stock exchange anywhere has approved or disapproved the information contained herein. There is no express or implied solicitation to buy or sell securities. The charts and data provided here are not meant for investment purposes and only serve as examples. We are not liable for any losses you may endure from the buying and selling of stocks or securities within your accounts.