End of Day Wrap Up 02/04/2021
Is AMC and GME Dead?
Today there was more selling off of AMC and GME, which was expected, as the hype is dying down. I am still holding AMC because it's still hitting my personal goal. As long as it continues to close above $6/share, and forms new support levels over the coming months, that's all I'm looking for. I expect AMC to be back in the $10-15 range in the coming months as they continue reopening up in waves. Once they're fully operational, I expect the stock price to reflect that. This is a long term investment for me, so I'm very satisfied with where it's at right now. If it drops below $6/share, then that's when I'll be more concerned. Since it's held above that level over the last 2 weeks, it gets an all clear from me.
I'll be looking at re-entering GME once it finds a new bottom, which may take a few weeks. I LOVE buying selloffs so I'll be watching this one closely for re-entry. I wouldn't recommend anyone buying right now since this one seems to be the prime target for hedge funds that are angry that they got taken down by Reddit traders.
Short Sell Restrictions (SSR) looks to be back on tomorrow for both of these stocks, so I'll be monitoring their price action.
The Highlight of the Day: BB Liquidating Inc (BLIAQ)
Today was a great day for BB Liquidating Inc (BLIAQ) There was 7.93M in volume, hitting a high of $0.08 intraday. Tomorrow I'll be looking to see if there will be a continuation up for a possible reversal, otherwise I'll simply be accumulating more red days so I'll be ready when the OTC market gets hot.
Top 10 Green Positions (02/04/21):
BLIAQ
ATOS
OCGN
DLOC
ATIF
NOVN
TRVN
CSCW
BIOL
ACST
Top 10 Red Positions (02/04/21):
GME
SAVA
AMC
INO
NOK
NAKD
BNGO
PHUN
ACB
MARA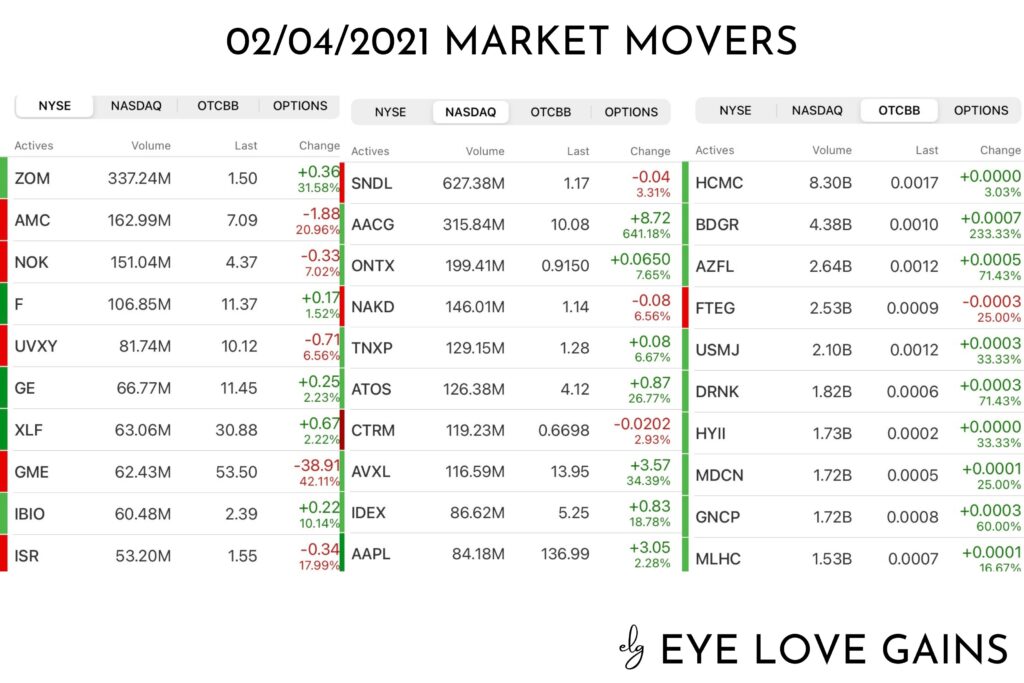 I monitor Market Movers every single day to scan for new setups. I mainly look for positions with unusual volume that are at the bottom, ready for a reversal back up, or if they remain green, I look for a bullish chart for a continuation.
As always, if you made some massive gains, be sure to support your local and small businesses. Be the change you wish to see in the world. Believe it or not, we can make a difference in keeping these businesses open!
Many have asked how to support me directly, so I've set up a PayPal for Donations to my blog below. Every bit helps to keep my blogging dream alive. I truly appreciate you taking the time to read.
-Cheers
Disclaimer : This should not be considered investment advice, and should not be used to make investment decisions. Do not buy or sell any stock without conducting your own due diligence. Information on eyelovegains.com is opinionated and should be considered for information purposes only. No stock exchange anywhere has approved or disapproved the information contained herein. There is no express or implied solicitation to buy or sell securities. The charts and data provided here are not meant for investment purposes and only serve as examples. We are not liable for any losses you may endure from the buying and selling of stocks or securities within your accounts.