End of Day Wrap Up 02/03/2021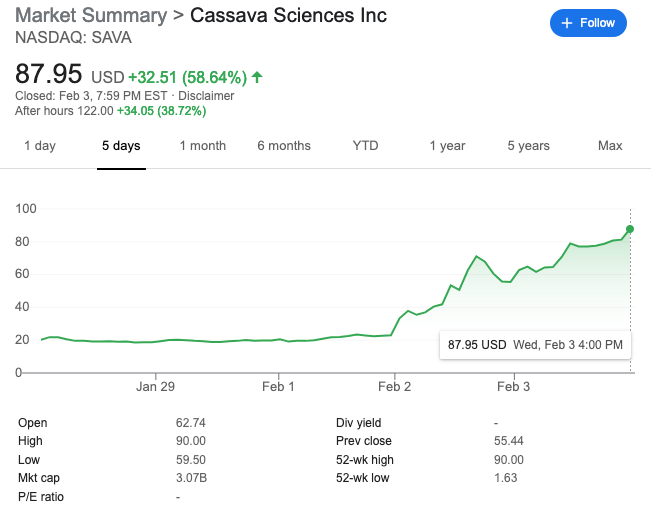 The Highlight of the Day: Cassava Sciences (SAVA)
Today was a great day for Cassava Sciences, Inc. (SAVA) There was 46.1M in volume, hitting a high of $130.48 after hours. Tomorrow I'll be looking for a continuation up. I've been accumulating SAVA since the big sell off in November and December, and just been holding. This was a 50/50 risk because I was actually VERY red in this position, and I've just been adding here and there over the months. I started adding more when Cassava Sciences appointed Dr. James Kupiec as their Chief Clinical Development Officer, and I noticed abnormal volume a few weeks later.
Last week there were news about positive data on Eli Lilly's Alzheimer's Drug with the expectation that there will be more catalysts in the coming weeks. Yesterday, SAVA was halted pending news, and Cassava Sciences announced their results from an open-label study of simufilam, showing that "patients' cognition and behavior scores both improved following six months of simufilam treatment, with no safety issues." Many have asked if it's too late to buy in, and I'm always going to err on the side of caution when buying on green days. I personally would not add more to my position unless there's a red day, when shorts attack in full force and scare buyers into selling.
The Cannabis Legalization Talk
Weeks ago I mentioned that I always make sure to have cannabis stocks in my portfolios, especially now that we are under the Biden administration. For those who have followed my watchlists, as I've mentioned before, I always accumulate red days. Today many saw why I do this, as all the cannabis stocks began exploding one by one.
I make sure to watch all sympathy plays that tend to move with SNDL, which are HEXO, KERN, ACB, TLRY, CANF, and many others.
Is the Party Over for AMC?
Yesterday, I accumulated as much of the $6 selloff as I possibly could because I expected the shorts to come out in full force. My rule is simple, if a stock drops more than 30%, I will accumulate the big dips because the following day, they will be put under Short Sale Restrictions (SSR). Today AMC dropped to $6.64 at 4:07am after Pre-Market Opening. I added that dip and continued accumulating. Today, AMC had a high of day of $9.77, which is a good sign. I'm looking for higher lows over the next months. Once the media stops overhyping the drama between Retail Traders v. Wall Street, I'll accumulate even more down the road.
I bought into AMC as a long term investor, however, I also have positions in my swing accounts as well. I personally invested following the bankruptcy news because I knew it wouldn't happen. They have enough money to last them through 2021, and there are AMC Theaters opening back up in waves throughout the country. As a long term investor, I'm not worried because I know AMC will be fine. However, if I was a day trader who can't stand to see red, I would never hold because that would be breaking my rule of cutting losses at 5%. Rules are there to save you from making emotional decisions, and creates structure for safe trades.
Top 10 Green Positions (02/03/21):
SAVA
ATOS
NAKD
ONTX
IBIO
SUNW
POLA
SNDL
AMC
OPTT
Top 10 Red Positions (02/03/21):
OCGN
CANF
KERN
PLL
TSLA
VBIV
XL
GAXY
PHUN
NAK
I monitor Market Movers every single day to scan for new setups. I mainly look for positions with unusual volume that are at the bottom, ready for a reversal back up, or if they remain green, I look for a bullish chart for a continuation.
As always, if you made some massive gains, be sure to support your local and small businesses. Be the change you wish to see in the world. Believe it or not, we can make a difference in keeping these businesses open!
-Cheers
Disclaimer : This should not be considered investment advice, and should not be used to make investment decisions. Do not buy or sell any stock without conducting your own due diligence. Information on eyelovegains.com is opinionated and should be considered for information purposes only. No stock exchange anywhere has approved or disapproved the information contained herein. There is no express or implied solicitation to buy or sell securities. The charts and data provided here are not meant for investment purposes and only serve as examples. We are not liable for any losses you may endure from the buying and selling of stocks or securities within your accounts.