01/25/21-01/29/2021 Weekly Watchlist for Swing Positions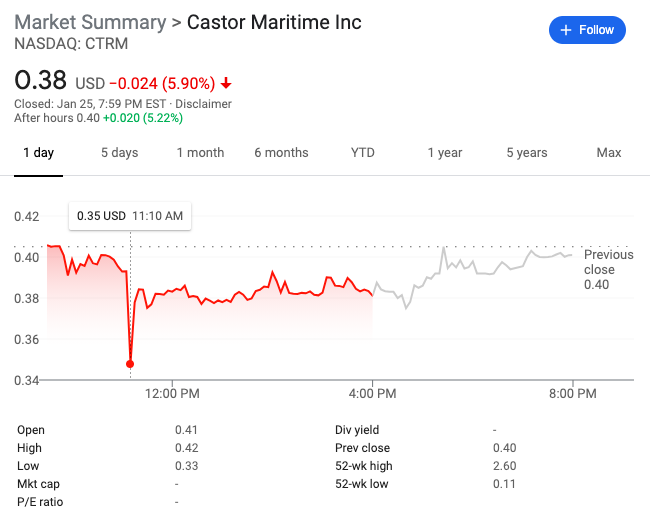 This Week's Watchlist (1/25/2021-1/29/2021)
CTRM – Castor Maritime Inc. – Common Shares
OXBR – Oxbridge Re Holdings Limited – Ordinary Shares
ATOS – Atossa Therapeutics, Inc – Common Stock
ATIF – ATIF Holdings Limited – Ordinary Shares
IVR – Invesco Mortgage Capital, Inc – Common Stock
CBAT – CBAK Energy Technology, Inc. – Common Stock
CSCW – Color Star Technology Co. Ltd. – Ordinary Shares
SPI – SPI Energy Co., Ltd. – Ordinary Shares
LMFA – LM Funding America, Inc. – Common Stock
SNDL – Sundial Growers Inc. – Common Shares
CLOV – Clover Health Investments, Corp. – Class A Common Stock
BRQS – Borqs Technologies, Inc. – Ordinary Shares
KERN – Akerna Corp – Common Stock
Disclaimer :
This should not be considered investment advice, and should not be used to make investment decisions.
Do not buy or sell any stock without conducting your own due diligence.
Information on eyelovegains.com is opinionated and should be considered for information purposes only. No stock exchange anywhere has approved or disapproved the information contained herein. There is no express or implied solicitation to buy or sell securities. The charts and data provided here are not meant for investment purposes and only serve as examples. We are not liable for any losses you may endure from the buying and selling of stocks or securities within your accounts.